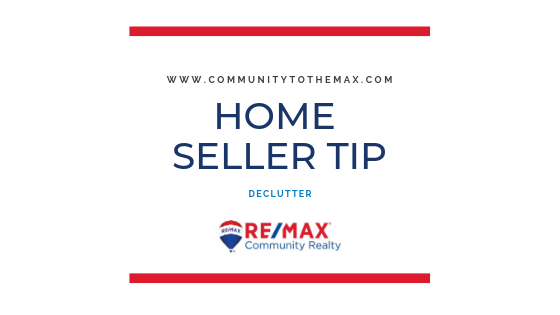 Are you thinking about selling your home to take advantage of the current market conditions? Getting your home ready to sell can feel like a daunting task, but trust me, it doesn't have to!
We all know that a staged homes sell faster. It's a fact, however most homeowners do not want to spend $$ on staging a home that they are getting ready to move out of. If you are looking to save money, and aren't afraid of a little time investment- the first thing you should do is…….. DECLUTTER!
After spending many hours touring homes this Spring and Summer season, I can tell you that most homes show much better with about 40% of the personal possessions removed. If you've watched the Marie Kondo special on Netflix, you know what I'm talking about?!
If you aren't ready to get rid of your things, that's understandable as well. But I challenge you to imagine your home from a buyers perspective. A cluttered closet can make a potential buyer feel that you are running out of space. That can be a major turnoff. So watch a Marie Kondo episode, grab a box, and stash away all the items that you don't use daily.
You can start small. Make a goal to pack up one box a week. Every little bit makes a difference. Once you have that first box filled, drop it off at St. Vincents, post it on the "Lake Mills Unconditional Give and Take" Facebook group, or start your garage sale pile.
Once you declutter that first space, step back and take a look. Now think about how much better it will look to a prospective buyer. Big difference, no cost. Easy, right?
If you'd like more home seller tips, I'd be happy to help! Shoot me an email at lindseyl@remax.net